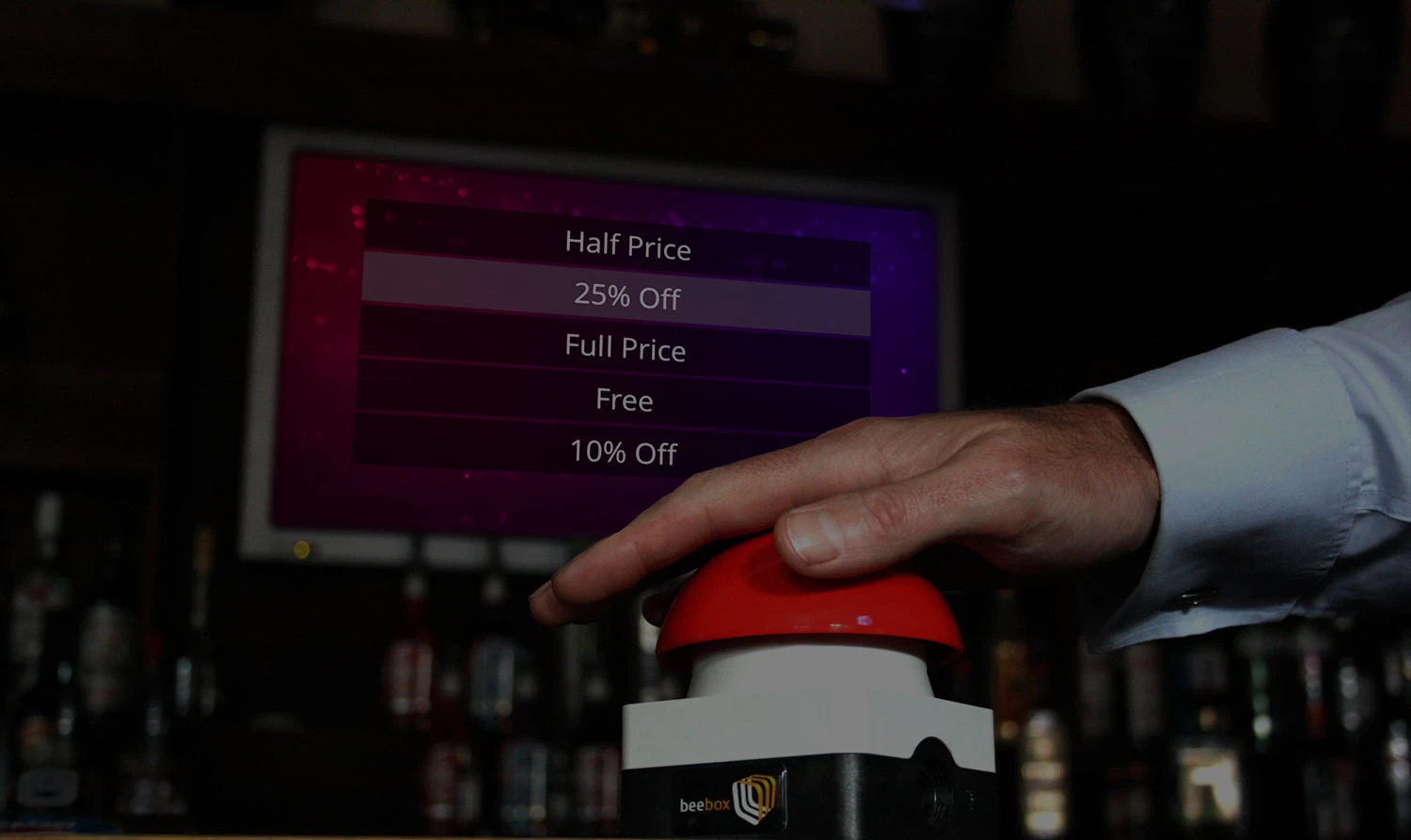 What is a BeeBox ?
BeeBox is the fully integrated venue entertainment and promotional system that is driving sales and boosting revenue in bars and leisure venues across the UK.
Connecting to your venues TV's and sound equipment, the BeeBox provides music, digital signage, games, quizzes, karaoke and much more – all from one reliable and easy-to-use system.
All features of the BeeBox are modular, allowing the system to be tailored to your exact requirements and allowing you to upgrade and add additional features at any time.
With over 25 years of industry experience the BeeBox venue entertainment and promotional system provides a robust and dependable solution for business owners.
Get a Quote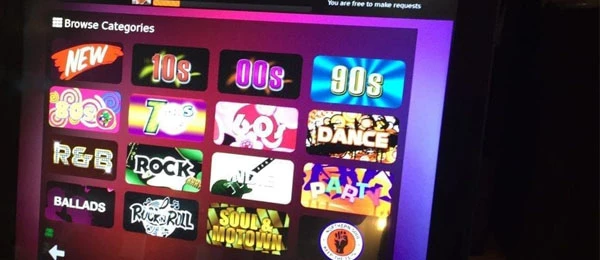 Background Music
Background Music enhances your venue and re-enforces your leisure brand. Playing the right background music encourages customers to stay longer – and to spend more !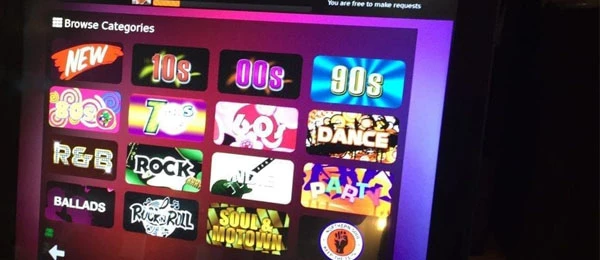 Music Profiling
After discussing your brand values, your target customers, and the atmosphere you would like in your venue, we can suggest suitable background music programmes which ensure that a wide selection of tracks are played – without overstepping your agreed music policy.
A 24 hour a day, 7-day scheduler allows you to vary the music programme across the day – allowing a progression of music styles to match or dictate your customer trading pattern.

Automatic Volume Control
The BeeBox software can control volume levels, allowing you to drown out or promote conversation as you wish.

Music Updates
The team at BeeBox monitor the UK Top 40, radio stations, social media and streaming charts.
They have over 40 years experience in DJing, Radio Presenting and Music Programming and spot the trends to keep you ahead of the game with new releases and exclusive remixes.
New music tracks are released weekly and downloaded to your system overnight.

Multiple Zones
More than one floor or room in your venue? Not a problem!
The BeeBox can support up to 4 music zones, each with its own music schedule.
DIGITAL SIGNAGE
Advertising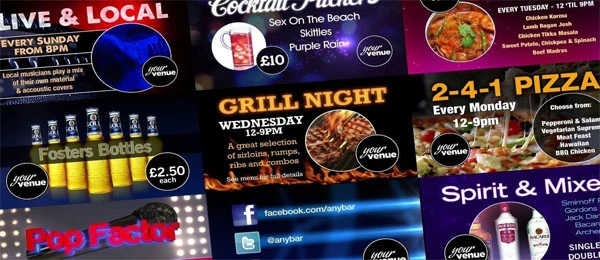 Advertising
Visually maximise your profits !

Increase profits with dynamic content that catches the eye and demands attention from the viewer.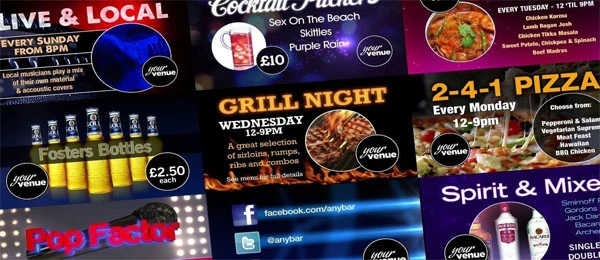 Perfect Promotions With Ease
Stay ahead of the competition with 100s of ready-made templates for food and beverage brands, sporting events, entertainment and social media.
Customise the artwork, sales messages and price points with a simple point-and-click editor.
Your Own Imagery
The system fully supports any existing artwork you may have, from static images (JPGs) to full motion video (MP4).
Upload your own artwork from any device using the online service.
Inform & Entertain
The BeeBox digital signage facility can stream live news and social media feeds.
Retain football fans by keeping them abreast of the latest news from your local team!
Pick & Mix
You can build multiple slideshows from the customised templates, live feeds, and your own imagery.
Slideshow items can be scheduled so they only appear at certain times of the day – allowing you to tailor the promotions to your customer trading patterns.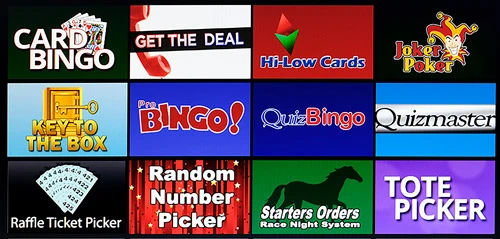 Games
In today's competitive leisure environment, venues are increasingly looking to give their customers additional reasons to stay, these on-screen games will give you that edge.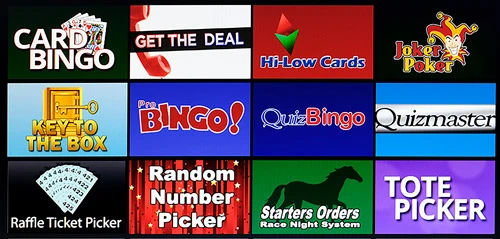 Bingo
Large numbers displayed on-screen.
Automatic or manual calling
Choice of celebrity voices
Quiz
1000's of questions sorted into categories (general knowledge, history, sport, music, etc.)
Current Affairs category updated with new questions every week
Can be ran without a quizmaster (thus cost saving)
Quiz Bingo
A combination of bingo game and a quiz
Players given a numbered 5 by 5 bingo grid style answer sheet and the challenge is to create a vertical, horizontal or diagonal line of 5 correct answers.
Hi-Lo Cards
Play with 5 or 9 cards
Ace high / Ace low options
Atmospheric sounds effects and music
Horse Racing
Winnings calculated automatically
Historic video races with exciting commentary
We can supply tote tickets and film selection cards
Raffle Ticket Picker
Multiple prize tiers
Supports cloakroom tickets in up to 5 colours
Print results to your office printer
Key to the Box
Choose number of boxes/keys.
On-screen animation of boxes being opened
Game progress and prize location stored until the next draw.
Joker Poker
Choice of 53 cards (52 + Joker)
If customer picks the Joker, they win.
Optional messages for Jackpot, etc.
Random Number Picker
Picks single numbers (can use remote push buttons to start/stop)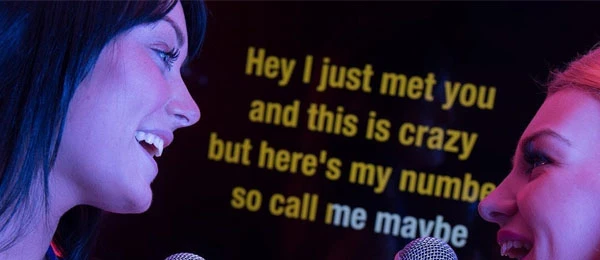 Karaoke
Karaoke is back ! This form of customer generated entertainment is big business and opening up new revenue streams for bar and club operators.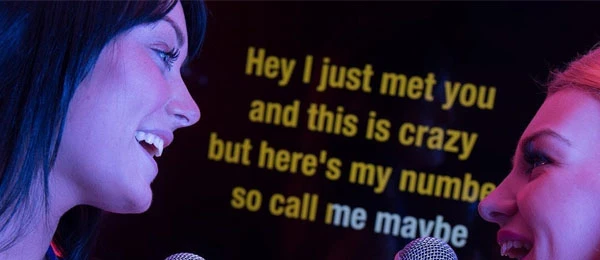 Presenter-Led Karaoke
This is the traditional way of operating karaoke where a host takes requests, enters them into the system, and calls customers forward in turn to sing.
With karaoke support built right into the software (see DJ Control) – your karaoke night can be ready to go in seconds!
Private Room Karaoke
Small groups of customers enter a private booth. They use a simple, touchscreen system to make their song selections and sing.
This form of karaoke is great for stag & hen nights, works outings, team-building, and private parties – and is usually booked in advance.
Professional Tracks
Your BeeBox System will come pre-loaded with your choice of catalogue from Sunfly Karaoke or Zoom Entertainments – the UK's leading suppliers of professional karaoke tracks.
Regular updates are available from both suppliers and download to your system overnight.
The key and tempo of the playing track can be adjusted to cater for those with a limited vocal range, and sped-up or slowed down to suit.
A karaoke setup can require additional equipment, including microphones and a good sound system.